I'm in Little Rock, AR, on my way to Austin, TX and chilling out after being on the road for about twelve hours.  Between today and yesterday, my daughter and I have made good time from Hesston, PA to here.  Something that I wanted to do while on this road trip was to eat healthy (of course!) and so we've made sure we had plenty of water and healthy snacks in the car.
And, since yesterday, we've stopped at three Whole Foods in Lexington, KY, Nashville, TN, and Little Rock, AR to eat.  It's sort of become a challenge for us to stop at one in each city along the way (we still have Dallas and Austin left), because we just like to check out the differences between the stores and we know that we can easily grab a great salad, and a macaroon or two, to fill us up without putting us to sleep on the road.  So far it's worked and we've met some cool people along the way.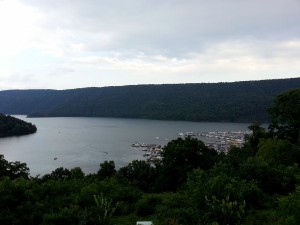 While in Hesston, PA, though, we stayed with a friend of my daughter's near Raystown Lake and whipped up a storm of colorful dishes for a cookout Saturday night.  One of them was an Asian inspired cold spaghetti squash dish that I wanted to share with you because it was a huge hit.  You can roast the spaghetti squash ahead of time and keep it in the fridge until you're ready to put it together.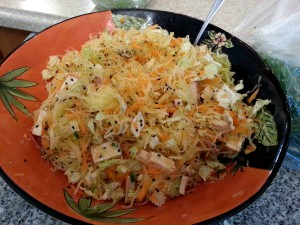 Asian Spaghetti Squash Salad 
1-2 spaghetti squashes, cut lengthwise, seeds removed
fresh savoy cabbage, chopped into fine shreds
1 large carrot, shredded
black sesame seeds (or toasted yellow sesame seeds)
cubed, smoked tofu (optional), mung beans, or sprouts
3 T rice vinegar
1-2 T sesame oil
Place the spaghetti squash cut side down in a baking dish and bake at 350 °F until a knife easily cuts through it; let cool.  Using a fork, gently scrape the strands of squash out from the shell into a large bowl.  Add a couple handfuls of cabbage, the carrots, tofu, sesame seeds, and vinegar and oil.  Gently toss and add more vinegar and/or oil to taste.  Chill in the fridge.