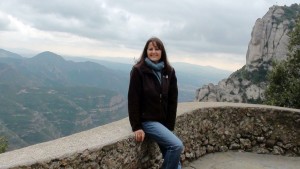 "Sitting has become the smoking of our generation." ~Nilofer Merchant,  TED2013
There are many aspects of our lifestyles today that could be compared to smoking, like a diet high in processed and fast foods, and the fast-paced, stress-filled schedules we create for ourselves.  And there is also one habit that we've settled into that we don't often think about as harmful and that is long periods of sitting.
For many of us, sitting comes with the job.  You may spend your days in front of a computer or in a vehicle.  And if you're at all concerned about your health, you probably think more about how to change your diet or fit in more exercise.   As important as exercise is, it's often not enough to offset the many hours you may spend in a chair.
As much as I make efforts to get out of my seat more during the day, this topic really came to the forefront for me last week when I was on vacation in Barcelona.  I knew that I wouldn't be working out at the gym and so I initially thought about how I would incorporate exercise in everyday.  What I quickly realized was that it wasn't that difficult at all.  Here are three 'activities' that I believe made it possible for me to maintain my weight while sampling the local, traditional foods, like paella, bread rubbed with tomato and olive oil, egg frittatas, Catalan crème, and lots more. I'm not suggesting that you adopt strategies so that you can eat with abandon on a regular basis, but rather as a means for you to get to an ideal weight or keep the weight from creeping up over time.
1.  Walking - Sounds so obvious, but it became very clear to me how little I walk!   And even with a daily workout, it's not enough if you're sitting for the rest of the day.  But in Barcelona, we walked everywhere.  Even if we chose to use the subway, there was plenty of walking through the system to get to and from the trains.  I actually went through a bit of a withdrawal when I got home.  Moving outdoors in the wide-open spaces was energizing and relaxing at the same time.  Think about where you can incorporate more walking into your daily routine.
2.  Stair climbing - We were staying on the top floor of an apartment building which meant climbing seven flights of stairs (if I chose to) to get there.  So I climbed them two to three times per day for the entire week.  Although it doesn't sound like a lot, I was surprisingly winded when I got to the top, so it was well worth the effort.  I also chose the stairs in the subway system and the airport, which was also often faster than taking the escalator.  Not that I was in a hurry ; )
3.  Spending time in the cold - The temperature for most of the week was a 'balmy' 50-60 degrees F (when compared to CT), yet it was still cold enough to feel a chill after several hours.  It was also cooler at higher elevations, like at Montserrat, a mountaintop monastery (pictured above).  You may not often think about it, but if your body has to work harder to generate heat, you'll burn more calories.  This article posted recently about using the cold for weight loss supports the idea through your body's use of brown adipose tissue, or BAT, to stimulate your metabolism.  Although I don't think it's necessary to submerge yourself in an ice bath, but if you ski or ice skate, then you are probably already reaping the benefits.   If not, begin with spending more time walking outdoors in the cool weather or keeping your house at a cooler temperature.  It's also a great way to save on your heating bill ; )