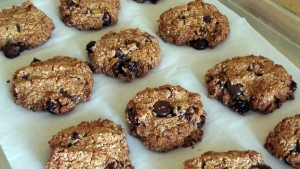 The holidays are just about here and we all know what that means!  You may be surprised to find out that I don't go crazy worrying too much about what I'm eating at holiday parties.   I eat clean most of the time and over the holidays, I will prepare what I consider healthy dishes, but I do enjoy indulging a bit, because life is meant to be pleasurable!  With that said, I focus on eating what I like rather than trying to eat everything and I pay more attention to how I'm feeling so that I don't overdo it and feel terrible later.   And I return to my typical diet afterwards without feeling like I've missed out on anything.
Last week, I found this cookie recipe online and simply worked with what I had to try these out.  I consider these indulgent and at the same time, on the healthier side and if you didn't say a word to your guests, I bet they'll love them!  What I love about the recipe is that it's super simple to prepare.  One bowl, less utensils, and no mixer necessary; the batter is ready in a snap.
Compared to the original recipe, I used shredded coconut rather than flour, although you can also grind coconut in a high-speed blender or coffee grinder to make it fine.  I cut back on the amount of sugar because I also added raisins, which are sweet too and I found these plenty sweet for me.  I also added a little water because I used a dry sugar and I used olive oil.  You may be thinking it's a strange choice for a sweet cookie, but I didn't find that at all.   Hope you give them a try.
Finally, I want to wish you and your family a very Happy Thanksgiving!  If you focus on what you have to be grateful for and enjoy everything the day has to offer, you may find yourself very well fed with less calories : ) 
Grain-free Chocolate Chip Cookies
2 c almond flour
2 T unsweetened, shredded coconut
1/3 c coconut sugar
½ t sea salt
½ t baking soda
1 T vanilla extract
½ c olive or coconut oil
2-3 T water
1/3 c each dark chocolate chips and raisins
In a medium bowl, mix the dry ingredients together then add the vanilla, oil, and water.  Mix well.  The batter will be much less 'doughy' than traditional flour-based cookies.  After folding in the chocolate chips and raisins, use a small cookie scoop to drop 1-2 teaspoons full of batter onto a parchment paper-lined cookie sheet.  Press the batter down to form round discs.  Bake at 350°F for  ~10 minutes.  Resist the urge to dig in for a few minutes while they cool.  They'll hold together much better that way.   Makes about twelve 3" cookies.