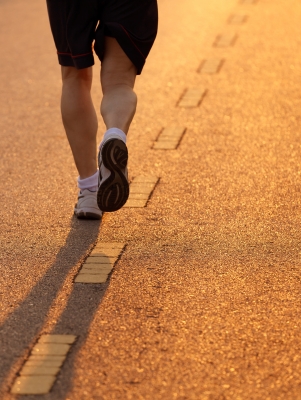 "In essence, if we want to direct our lives, we must take control of our consistent actions.  It's not what we do once in a while that shapes our lives, but what we do consistently." ~Tony Robbins
One day many years ago, I was leaving my place of work to go home for lunch and I saw a woman running down the street.  From my best guess, she was in her late forties and had accumulated excess weight in her abdominal area­, which we all know by now is dangerous.  She was running at a slow pace and appeared to be struggling with her breath.  Except for what I saw, I knew nothing else about her.
Over the course of several months, I would continue to see her pounding the pavement on my way home for lunch and what I began to witness was astounding.  Gradually, her step got lighter and quicker and I could see that she was breathing easier.  She also lost a considerable amount of belly fat, her face got thinner and she had a glow to her skin that wasn't there before.  And the look of struggle was eventually replaced with a look of pure joy.   It didn't take a genius to see that this woman was transforming her health.
Fast forward two decades.  I've been working out at the same gym almost daily for a little over a year.  When I first started going, I noticed a woman who came in regularly too and each time I ran into her, she was focused on her workout.  The last few times I've been, it dawned on me that this woman had lost a significant amount of weight.  Her hips, thighs, and arms had shrunk and she now had a waist.  She's also more energetic, her complexion is pink, and she smiles a lot.  I also spoke with her the other day and she said that after years of putting herself last and feeling the effects of that, she put her foot down and decided that her own self-care was a priority. Yay for her!!
Yes, both of these women have lost weight.  AND their improved health is showing up as increased energy, healthier skin, and better moods.  Both women are examples of what you can accomplish when you make the commitment.  It's like anything else, right?  If you commit the time and effort to furthering your education, working on your relationships, spending quality time with your kids, packing your own lunch, or maintaining your home, it will eventually pay off.  Often times in ways that you don't anticipate.   For both of these women, their commitment, consistency, and determination was paying off.  Not overnight, but over time. 
If you agree with the expression, it's the journey, not the destination, then you get that the transformation that happens along the way is what gets you there.  Where it really gets interesting, though, is that you may never actually arrive 'there', because as you change and grow, so does the destination.
My most successful clients are the ones that make a commitment to themselves and are consistent with their actions.  That doesn't mean that they never splurge at a birthday party or holiday, or that they never miss a workout.  It just means that their new normal is healthier and they are much quicker to get back on track and move forward than they were in the past.  And this is in part because they've adopted new habits.
I was talking with one of my clients recently and she agreed that with everything she's learned, she can't really go back because she's inherently changed.  She's equipped with information that has changed the way she see things and she's tried and experienced new things that have expanded her toolbox and her habits towards better health and she now knows what it's like to feel good!
Not long ago, I saw the same female runner again – running of course.  Still looking amazing and still on her journey, and once again inspiring me…
If you're motivated and ready to make a commitment to yourself but unsure where to begin, I'd love to help.